Water Safety Tips Save Lives
We've compiled the best water safety tips we could find

so you have a better chance to enjoy your swimming and other water sports.
Health Tips
Don't swim or surf directly after a meal.
Don't swim or surf under the influence of drugs or alcohol.
Know your physical and mental limits.
Keep warm and use safety equipment where necessary.
Be Smart on the Beach
Choose a beach where lifeguards are on duty. Always swim or surf under supervision or with a friend.
Find out when and where it is safe to swim. If you are unsure of conditions, ask the lifeguards and follow their advice.
Never run or dive into unknown water.
Even if you have checked before, conditions can change.
Don't take inflatables into the sea, you could be carried away by wind and tide.
If you get into trouble in the water, don't panic.
Raise your arm for help, float and wait for assistance.
If you get cought in a current or undertow, stay calm. Don't try to swim against it, swim parallel to the beach. Signal for help.
Follow the Flags and Signs
Look for signs or flags telling you where it is safe to swim.
Read and obey the signs. Never swim where a sign says not to. Don't swim when the Red flag is flying.
Swim between the Red over Yellow flags. Bodyboarders belong there too.
Surfers stay between the black and white flags.
Bodyboarders and surfers should stay with their board and not go out too far.
Ask the lifeguards if in doubt.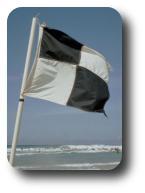 Keep Safe
On boats use lifevests. Wear clothes underneath to avoid chafing.
Always let people know where you or your team are going and when you'll be back.
Never go swimming, fishing or boating on your own, or there will be nobody to help if you get into trouble in the water.
Ensure you go with friends. Even if they can't help out, they can go and get help.
You should never fool around or run beside water; you might trip and fall in.
Take care on the riverbank; it can be slippery or crumble.
Keep away from the edge of canals; the water is often very deep.
Beware of locks and weirs; the water flows very quickly.
If you see Someone in Trouble
Keep calm and think before you act.
Try to get help - shout "help, help" as loud as you can.
Reach out with a stick, a pole, a towel or clothing to pull the person to the edge of the water. Lie down and hold onto something to make sure you don't get pulled in.
If you can't reach the person and no-one comes when you shout for help, find the nearest telephone and ring 112 in Europe or 911 in USA.
Never jump into the water yourself. This is only the last resort if you're fully trained.