Start Your Free Lifesaving Team
The Situation
Worldwide many traditional lifesaving clubs have been in decline for some time. It is sometimes hard for them to adjust to changes in society due to their rigid top-down approach of their leadership or national organisations and governing bodies. They gradually took the fun out of lifesaving which has led to staff shortages in leasure centres.
Let's turn this around.

Your Mission: Help Your Community
Outdated lifesaving and swimming clubs are now being overtaken by fun driven sports teams, often with support from commercial sponsors. Their organisational structure is simple and very flexible, so they can quickly adapt to new developments. Classes are far more realistic than before, simulating situations as they might occur, not some simplified exercises.
We've arranged the pages of this website so you can quickly build lesson plans from them. Simply print the pages and share them with your team.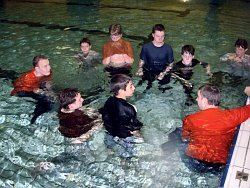 Come and join us in the pool !